This event has already taken place! Please check out our calendar for upcoming events.
Bird Banding Program - Zoom
December 13, 1:30 PM
—
2:30 PM
Join us from the comfort of your living room where we will bring you up close views of the birds of Quarry Hill Park – no binoculars needed. You will spend time with a Quarry Hill Naturalist as they capture, band and release wild birds as part of the U.S Geological Survey. Our naturalist will be ready for your questions!
Zoom link will be sent via email after registration.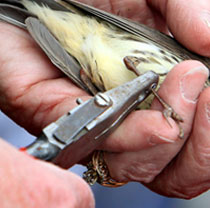 Every Day
at Quarry Hill