This event has already taken place! Please check out our calendar for upcoming events.
Bird Banding Program
$2/adult, $1/child
Free for members.

April 7, 1:30 PM
—
2:30 PM
Experience the beauty of birds up close as you try your hand at trapping, netting, banding and releasing birds.
The banding of birds in the United States is controlled under the Migratory Bird Treaty Act and requires a U.S. Federal Bird Banding and Marking Permit. Quarry Hill Nature Center holds this federal permit and band birds for educational and research purposes.
Join a naturalist during these monthly programs to learn about bird characteristics, bird adaptations and the Federal Bird Banding Program.
Call 328-3950 to register or just stop by to enjoy a Sunday afternoon with the birds!
All ages are welcome, children must be accompanied by an adult.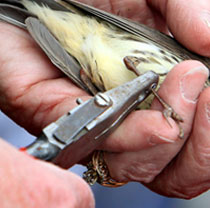 Every Day
at Quarry Hill